What is this shit?
Never heard of Black Slager? WTF dude?! You have missed the blackest of all metal bands - blacker than Vantablack! If Vantablack absorbs 99.965% then we do at least 99.9666% in our hearts! We know where the tent peg has to be put into and we will tell you, no matter whether you want to hear it or not!

Naming
blæk ʃɮ'˥æɠɛ˩ɾ: The name that sounds like an angel crying for redemtion does not come from the Hungarian word sláger but rather from a misspelled German word Schlager. Since normal Schlager would not have been as cool as the stuff that we release it had to be misspelled to create a new genre that fits us. We cannot be stereotyped - we need a new definition on our own by redefining the definition of redefinition through a complete new definition of what we are. We are blacker than what you can think of.
Band members
Although we are lacking a lead singer (If you can support us with a voice more tempting than Sauron reaching out to his Nazguls do not hesitate to drop us a line!), a skilled drummer (Ever felt like a double bass cannot get fast enough for you and at least your wiener should get his own pedal? Call us! Now!), a guitarist (You can handle 6 string with only one hand while fingering Satan's daughter with the other one? You are our man! Call our pager and we pick you up right from your doorstep!), a bassist (B0 is something you would only play with squeezed balls and you want to go deeper than Angelina Valentine will ever be able to? Be a bigger bad-ass than Machete and drop us some short messages using your crippled Nokia 3210!) and some other dudes we are by far the best band we know. We are also hiring some skilled groupies and water boys (although we prefer beer we will call you water boy anyhow).
Be our soldier - now!
Discography
Studio albums:
Live albums:
Music videos:
LaserDiscs:
DVDs:
HD DVDs:
Betamax tapes:
MiniDisc:
Blu-ray discs:
Vinyl disc:
Tapes:
8-inch floppy disks:
5¼-inch floppy disks:
3½-inch floppy disks:
Tour dates
After the exhausting five day shows in our camps during Wacken Open Air 2013 and Wacken Open Air 2014 we will be back at Wacken Open Air 2015 - watch out and give us some beer, you will not regret it!
Where to see Black Slager?
We are everywhere dude! You do not believe us? Look closely at your toothpicks, sometimes we are even there to help you get the last rotten pieces of meat left over from your last supper out of your dirty filthy teeth.



Tired of those lame embroidered iron-on patches for your metal gear? We did it and got beyond the burdens of being wonderful and reached awesomeness beyond superfantabulous: The original real leather Black Slager patch! Stitch it anywhere you want, from a nice little leather jacket for your guinea pig to the blackest of all leather coats you would wear to fight Agend Smith - this patch will never be missplaced!



Feeling thirsty? Need some uncontaminated blood of a virgin right out of your pocket? The party you are at is so low that you need your own drink? Get the Black Slager hip flask and be ready wherever you are!



Need something to tag your car as Black Slager support vehicle? Change the coolness factor of any gear to a level over 9000 by applying the Black Slager sticker!



Ever felt like the words you write down do not quite represent the black mood they should? Use our ballpens to write the blackest words of all. Just right for writing lyrics or simply add more super fluffy detergent to your grocery list.



Save yourself a penny for the ferryman!
Do not travel your last journey in debt - pay Charon with the highest value currency there is. Cross Styx in style from your black six star cabin. Buy yourself a beer in more than one world in the universe, accepted in more places than Visa, Amex, MasterCard, Discover and Chase combined – and no matter what, you will get change back. Get your groceries together in the biggest cart there is, our coins will help wherever you need more than just money!


Your sack is full? This sack is fuller!
Get your shit together - all of it! One bag to fit 'em all. We got it. Heavy wooden fabric, a lot heavier than your ex - even Mjölnir will be easier to lift if you fill this bag to it's maximum. Made from the best stuff on earth (sorry Snapple for losing it to corn syrup) you can fit more whisky in it than Mr. Kilmister ever drank and there would be still room left to put the cigarettes inside. Not waterproof by design, get wet like all the pussies you will get with it.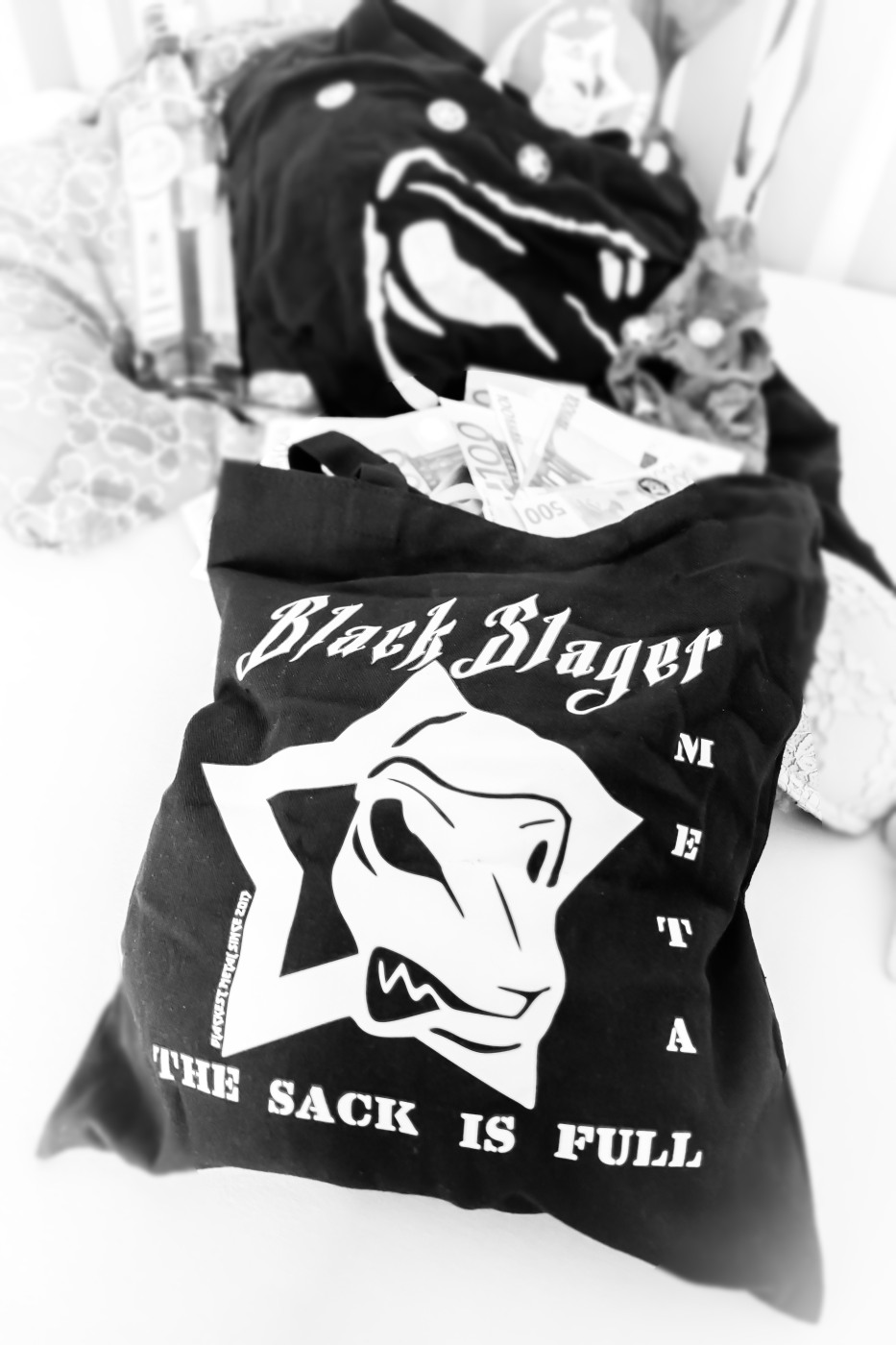 Please Drink Responsibly!
Do not leave any stains of your beverage on the furniture - it is a real turn-off for the ladies! Be prepared, play safe and drink with style.
Use our superiour beermat and your drink will instantly get colder - and darker, of course.


We do not care about looks, we do not care about the rest of the world - as long as you support us we will be there for you! Tag yourself as one of our soldiers and we give you what you need. May it be a beer, a chicken wing to sacrifice to the almighty Black Flo S. or just a high five with power over 9000 - we are your savior as long as you bear the mark of wisdom.

Get the wallpaper!
Be the the coolest hipster in your clique and show us your support - Black Slager is the best and you know it!
Get the darkest of dark metal wallpapers matching your device, your style, your way of life and our attitude.
If you cannot find a matching resolution below grow some balls and use paint. Kick those pixels!


What?
What!

Feedback from the masses
You have something to say about Black Slager? Sometimes the small things and thoughts are all that matter! Spread the word and give us something to show!


Ich spreche kein Englisch!
Use the google translator and miss nearly all of the ingenuity hidden in the subtext.